Raise your hand if you love fried rice!! (My hand is raised in case you were wondering..) When I was younger my favorite order from the Chinese restaurant was always pork fried rice with an egg roll. Now I can't promise you pork or an egg roll, but I can promise you some delicious fried "rice."
When I found out that I had a sensitivity to soy, gluten, dairy + rice, I was very disappointed to say the least. No more Chinese food?! No more sushi?! *ugh*
If you're not one to check labels, you might be surprised at how many packaged items contain the word SOY in the ingredients list. (Not just soy sauce.) There are also a lotttt of sneaky foods you that wouldn't suspect to have gluten! Soy sauce being one of them!
Learning how to eat in a completely different way can be overwhelming. (I know first hand.) That's why I created this blog and became a health coach! I love sharing gluten-free, dairy-free + soy-free recipes that you can enjoy too!
Somehow I stumbled upon COCONUT AMINOS a few years ago, and my life changed. How could coconuts taste like soy sauce?! But also, how could cauliflower become rice? These are the questions that keep me up at night..
After a lot of gut healing protocols I was able to reintroduce a few foods back into my diet. (White rice + small amounts of *quality* dairy.) On occasion I will eat white rice or use grass-fed butter, but for the most part I stick to a "Paleo" style diet. (I hate labels but that's the best way to describe how I eat 90% of the time!) This recipe takes less than 15 minutes to make, and can be enjoyed for breakfast, lunch OR dinner!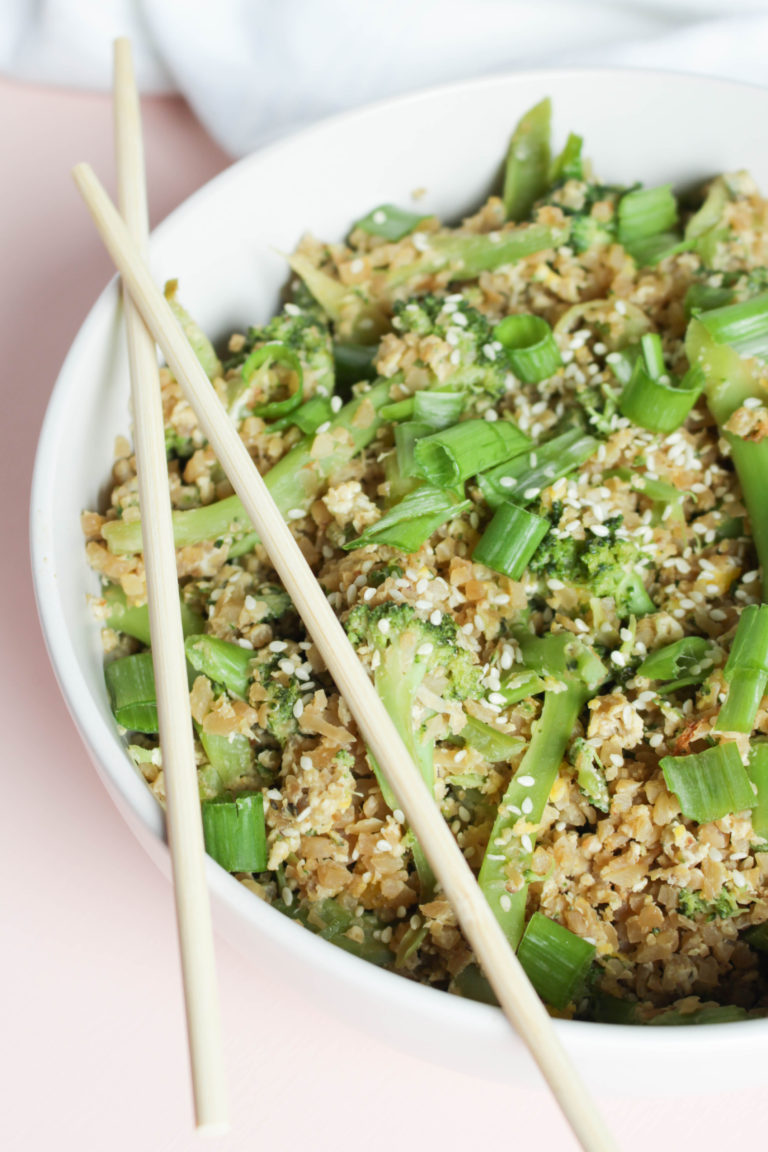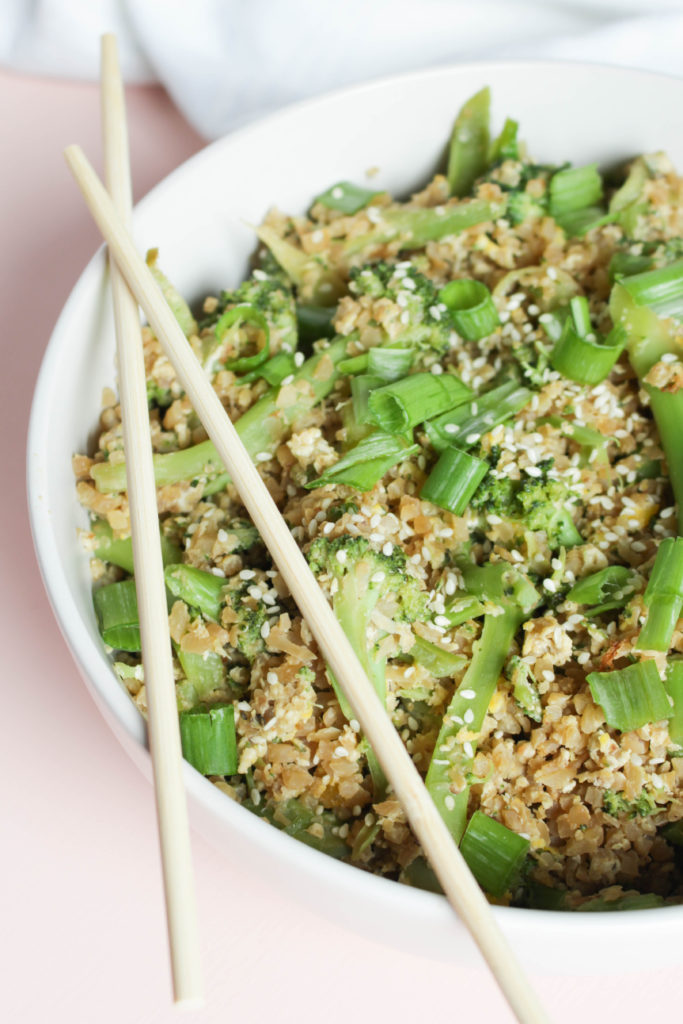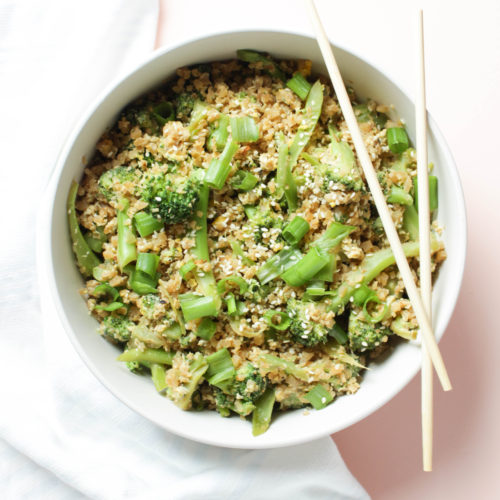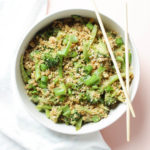 Paleo Fried Rice
Ingredients
1

Small/Medium Head of Broccoli

Roughly Chopped

1

12oz. Bag of Frozen Cauliflower Rice

(I use the Whole Foods brand.)

¼

Cup

Fresh Scallions

Diced Small

3

Medium Sized Eggs

4

Tbs.

Coconut Aminos

1

Tsp.

Salt

- to taste

1

Tsp.

Black Pepper

- to taste

1

Tsp.

Coconut Oil

(for the bottom of the pan)
OPTIONAL:
2

Tbs.

Sesame Seeds

For topping
Instructions
In a large pan add your coconut oil, and turn to medium heat.

Once the coconut oil is melted add your chopped broccoli, and cook for about 2-4 minutes.

Next add the entire bag of frozen cauliflower rice. (Keep the lid off the pan to decrease the amount of liquid.) Cook the broccoli and rice together until the rice defrosts and seperates.

Next add ½ of your fresh diced scallions, coconut aminos, salt and black pepper. Give it a good stir until fully combined.

Stir ever few minutes until the broccoli is soft enough to put a fork through. Once it seems ready, crack your eggs into the mixture and stir around until the eggs are "scrambled" within the mixture. Add a little extra salt + black pepper if you feel it needs it.

Once it's done add your second ½ of fresh scallions to the top, and sprinkle on some sesame seeds if you choose to use them.
Share on Facebook!