Today I wanted to share with you my non-toxic skincare routine. I have been consistently using a skincare routine since I switched over to Beautycounter in 2016.
Since then, I have been slowly adding in new products, and switching over to safer, non-toxic personal care products. If you're looking to switch up your routine, my suggestion is to start slow. It can be overwhelming and honestly, expensive.
In 2017 I started with just cleanser, moisturizer, and eye cream. Once you start there, it's easier to build and add to your routine.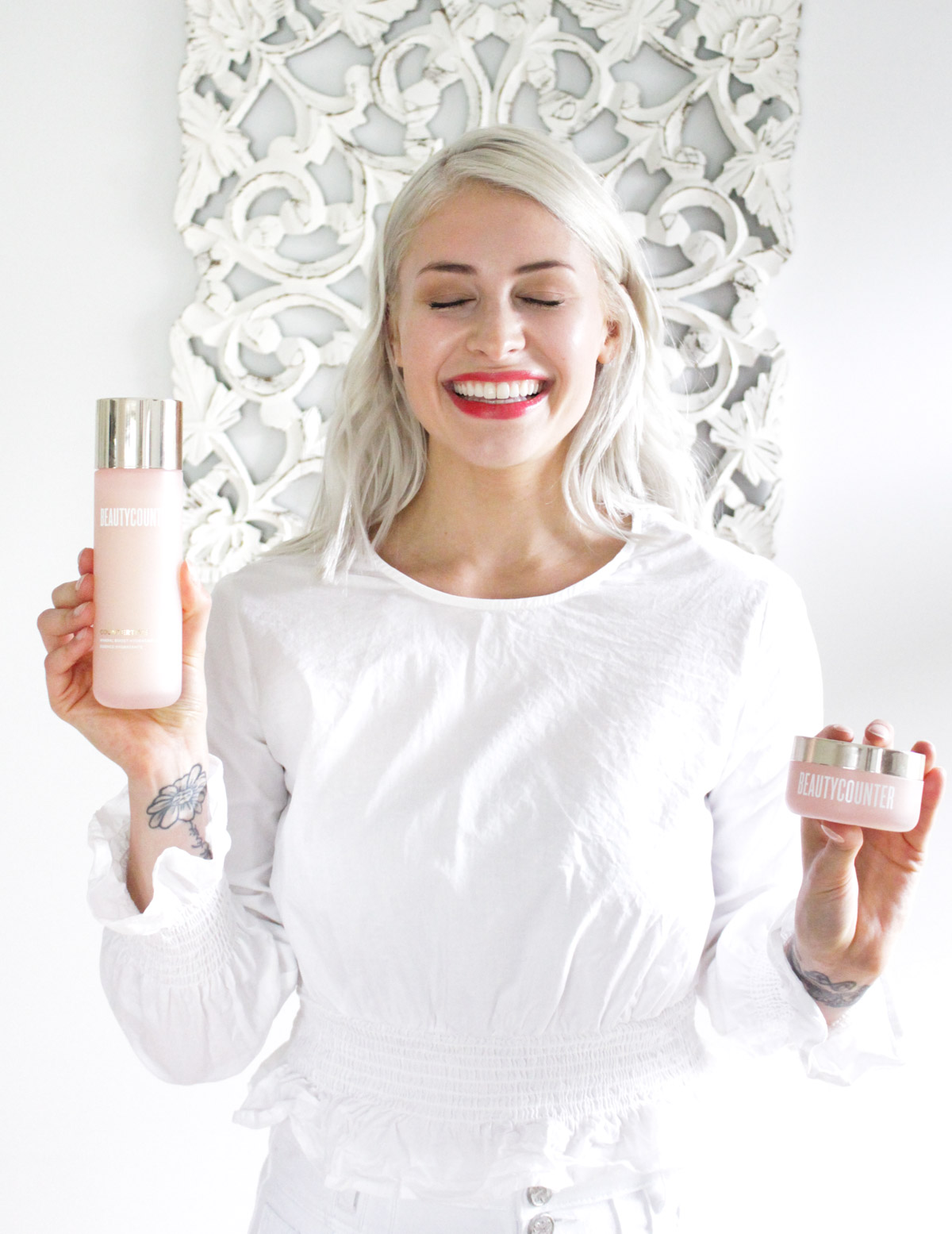 Jump to:
Disclaimer: Some of the links in this post are affiliate links, which means I make a small commission if you choose to purchase through qualifying links.
Why I became a Beautycounter Consultant
I decided to become a Beautycounter consultant shortly after I started using their products in May of 2017! They came into my life at the perfect time. I was chatting with some ladies that took my group fitness classes, and I was explaining how I heard a podcast episode, which I still remember to this day - Bulletproof Radio with Dr. Trevor Cates.
She explained how there were harmful chemicals like formaldehyde in women's personal care products! I was SHOCKED. I never thought twice about what ingredients were used my skincare or makeup.
After explaining the episode, one of the ladies shared with me how she just started using a brand called Beautycounter. I had never heard of it before, but after doing a little research I decided I wanted to give them at try! I ordered moisturizer, eye cream, and cleanser - I was HOOKED.
After doing a little more research, I realized the makeup products I was using were filled with harmful chemicals and hormone disrupters. I decided to dump my old beauty products and switch to non-toxic options!
A little background on Beautycounter
If you're not familiar with Beautycounter.. they ban over 1800 harmful chemicals from their products, obsessively test for safety, and use sustainable packaging. Scroll below for more info!
As I mentioned above, I am a Beautycounter Consultant. To support my business you can shop through my link, or search "Mariah Mandile" at checkout! The product links below do not automatically link me as your consultant. Questions? Leave a comment below!
My Morning Skincare Routine
Countertime Cleansing Oil - LOVE LOVE LOVE. I am absolutely obsessed with this cleansing oil. It removes makeup, feels super hydrating, and leaves your skin feeling fresh + CLEAN.
I can't rave about it enough. I use ONE pump, gently rub onto DRY skin, then add a little warm water to my hands and you'll notice it becomes a super creamy/milky texture. It's formulated with vitamin e, fatty acids, and the Retinatural Complex described BELOW. (Under Essence.)
Countertime Mineral Boost Hydrating Essence - LITERAL HEAVEN in a bottle.. it's basically a hydrating toner. It helps to lock in moisture and prep your skin for serums and moisturizers. It's very light, and feels like a mixture between an oil and water. I use about 3-4 drops. (Lasts about 10-12 months.)
Counter+ All Bright C Serum - If you're looking for GLOWING skin, I highly recommend one of Beautycounter's newest products - ALL BRIGHT C SERUM!
I noticed a difference the first WEEK I started using it. It smells amazing, and leaves your skin dewy, hydrated, and glowing. I use one pump AFTER the Countertime essence, and BEFORE my moisturizer.
Countermatch Adaptive Moisture Lotion - It's very light and incredibly moisturizing!
Countertime Ultra Renewal Eye Cream - You only need a tiny drop, but it's extremely moisturizing and has anti-aging benefits!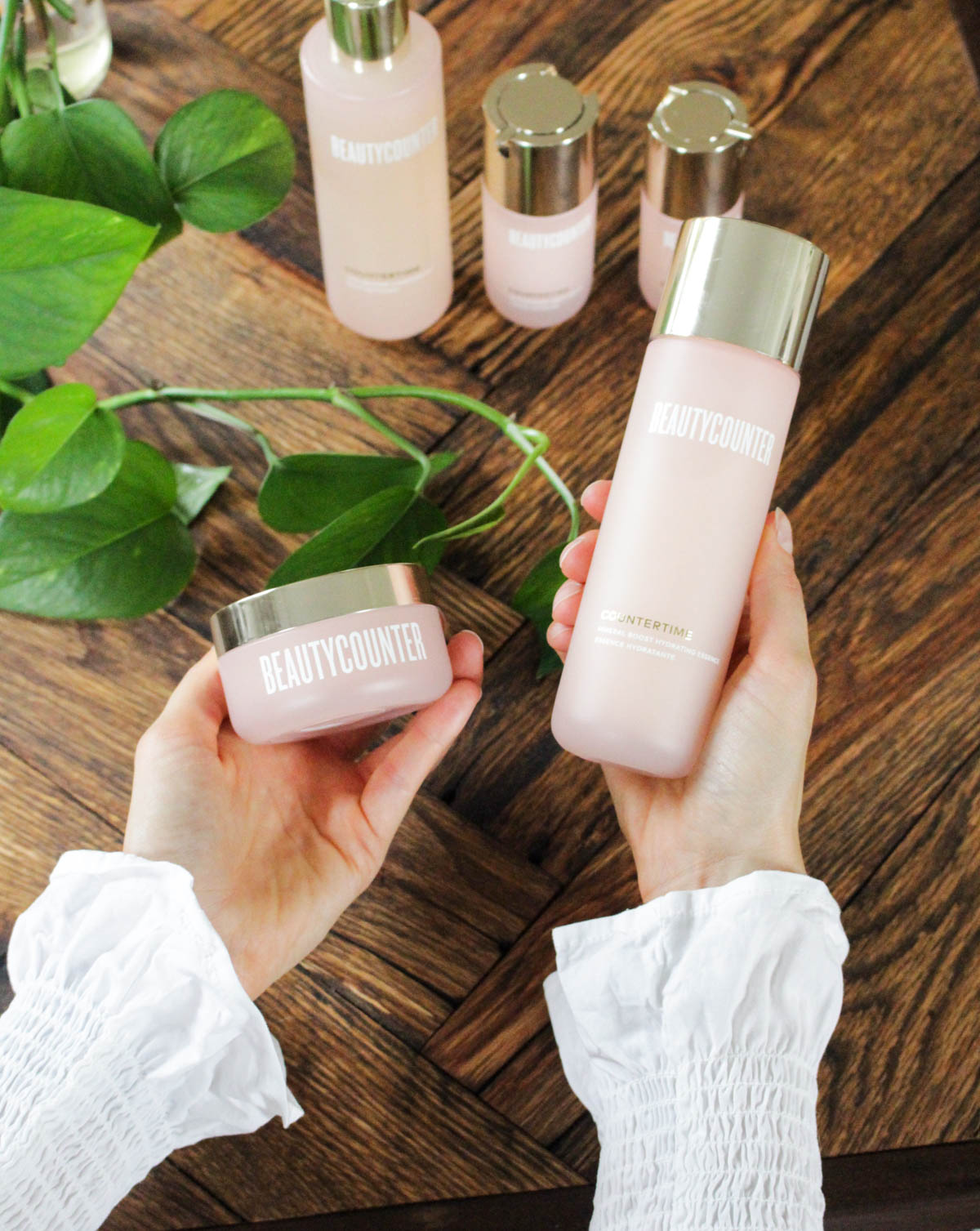 My Nighttime Skincare Routine
Countertime Cleansing Oil - Details listed above in Morning Skincare Routine.
Countertime Mineral Boost Hydrating Essence -Details listed above in Morning Skincare Routine.
Counter+ Overnight Resurfacing Peel - Goodnight dullness, good morning RADIANCE! The resurfacing peel is basically a facial in a bottle.
I use it about 3 times a week! On nights that I use the peel, I skip the essence step and just top it with moisturizer. It doesn't actually "peel" your skin, but you wake up GLOWING.
Countermatch Recovery Sleeping Cream - I switched to this a few months ago, and boy was I missing out!! It's absolutely amazing. It has two forms of hyaluronic acid to help create a protective layer to shield skin from moisture loss during sleep.
Countertime Ultra Renewal Eye Cream - This is THE BEST eye cream I've ever used. If you're not currently using an eye cream, YOU SHOULD BE.
You only need a very tiny amount under each eye. Its featured ingredients are the Retinatural Complex, and Persian Silk Tree Extract to brighten the eye area, fade dark circles, reduce puffiness, and reduce the appearance of crow's feet. It's extremely silky and smooth. (Lasts about 7-8 months.)
Skincare Extras
How to Save Money with Beautycounter
If you're planning to purchase multiple items from either the Countertime line, or Countermatch line, you should consider purchasing a Regimen Set!
Countertime Regimen Collection - Save $30
Countertime Regimen Set - Save $20
Just a reminder - I am a Beautycounter Consultant! By clicking any of the links I've shared above, you will be supporting my business! If you're not sure the link is accurate, you can add me as your consultant at checkout. Just search, Mariah Mandile.
I appreciate you all very much. Hope this was helpful! If you have any questions about my non-toxic skincare routine, or specific products, you can comment below, send me a DM on Instagram, or email me at [email protected].
If you're interested in clean living, you might find my Clean Living Guide post helpful!